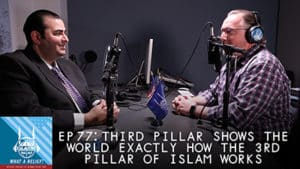 B.C. Dodge talks to Abed Ayoub, co-founder of Third Pillar Charities in this episode of "What a Relief!" — IRUSA's official podcast.
We are sure everyone is gearing up in some way, shape, or form for the upcoming holiday season in the U.S. You can feel it in the air. Whether we celebrate any portion of it, it would be difficult not to see and feel the enormous weight put on families to keep up. Poverty in America is the elephant in the room that isn't heard until it's weighty feet moves. Our guest Abed Ayoub, co-founder of the 3rd Pillar Charities has listened to the plight of the undeserved intently, and this year will be another one where they answer the call to serve. On November 18th 3rd Pillar Charities in conjunction with IRUSA will be completing another round of Turkey distribution in D.C.
Ayoub describes the significance of this hallmark joint effort to the ward it takes place in. The Nation's capital is the center of power for the world, and has an awe inspiring landscape. But it isn't excluded from the disparities the rest of the nation faces in regards to poverty. 3rd Pillar Charities see their intervention as a civic and spiritual duty. Ayoub mentioned, "We're trying to do our part at least in the DC area to help those in need. These are trying times. There are millions of Americans who are living below the poverty line." 3rd Pillar Charities will be striding into almost 10 years of operation with this years passing. They hope to continue to expand beyond their core services. Ayoub spoke plainly seeing the obvious need for working towards sustainable options in the Nation's capital, "People literally took the empty food-boxes and laid them out to sleep-on." Saturday marks one of several turkey give-away partnerships that our community of donors has helped establish. If you want to support the upcoming distributions please pitch in!
**Reach out to us at our email address: warp@irusa.org!**
"What a Relief!" is the official podcast of Islamic Relief USA. Co-hosted by social media specialist B.C. Dodge & Mordant Mahon, IRUSA's "What a Relief!" puts a human face on what's going on in the world and how you can enact positive change in it. New episodes every week!
LISTEN. SHARE. REPEAT.