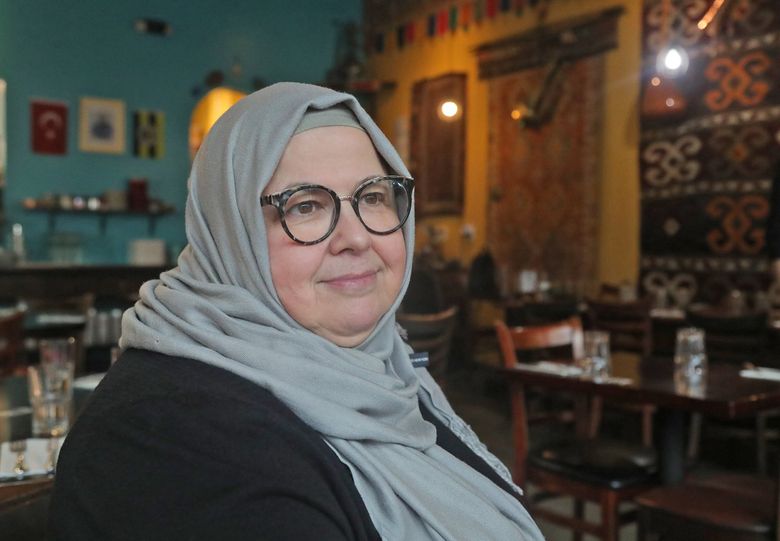 Sureyya Gokeri, co-owner and chef of Cafe Turko, raises money to help response to deadly earthquake in Turkey, Syria. "All we can do is pray," she said. (Greg Gilbert / The Seattle Times)
"Sureyya Gokeri, owner of Cafe Turko in Seattle's Fremont neighborhood, said the immense loss of life from the powerful earthquake that struck Turkey and Syria last Monday is unimaginable.
Gokeri said community members with ties to Turkey and Syria were stunned by the early reports of the quake, which initially estimated that 3,400 people had died. The death toll has since risen more than 33,000.
"This is going to be a scar in the hearts of people for ages," Gokeri said.
Seattle-area residents and community organizations with connections to the affected region are grieving after the powerful 7.8-magnitude earthquake and have organized to raise money and create awareness of the natural disaster that has killed tens of thousands and eviscerated critical infrastructure.
"We're all affected," Gokeri said. "Even if we didn't lose someone."
Gokeri, who has lived in the United States for about 30 years, was born in Gaziantep in south-central Turkey near the Syrian border, one of the cities most impacted by the earthquake and its aftershock. Some of Gokeri's family members still living in Gaziantep had to leave their homes with no socks or coats in the wake of the disaster. Though her relatives in the city kept safe by staying in their cars, they lost friends. Others lost children, pets and other loved ones, Gokeri said.
The Seattle restaurant owner originally planned to raise money for people affected by the quake, but she decided instead to focus on amplifying existing efforts benefiting the Turkish community in the Seattle area and elsewhere.
The Turkish community in Seattle has grown so much, Gokeri said, explaining how, when she started her business, she used to feel such excitement about seeing a Turkish person somewhere in town — a rare occurrence.
"Of course, nothing is enough to regain the lives of the people who were lost," Gokeri said. "But there's always something you can do."
Gokeri spoke at the Idris Mosque in Seattle's Northgate neighborhood Saturday afternoon to share ways to help, financially or otherwise. The sheer amount of internet links to aid efforts being shared is overwhelming, Gokeri said, and people understandably want to know the help they offer will reach the right place.
With similar thoughts in mind, the owner of Alida's Bakery in Everett, Nechirvan Zebari, organized a fundraiser in which all proceeds go to the Islamic Relief fund. The organization allocates 85% of all money raised to direct services and has connections to groups in both countries.
As a former nurse practitioner, Zebari's first instinct was to book a flight and help people on the ground, but family members warned him against the idea.
The bakery owner decided instead to raise money by making manakish, one of their most popular items, eaten in both Turkey and Syria.
"We want to maximize the amount of money we can send there," Zebari said.
The idea is to raise money until Feb. 16 while letting people experience a small culinary treat from the cultures, Zebari said. The business is located at 607 S.E. Everett Mall Way.
Zebari said there's a lot of attention and help reaching Turkey, a NATO member, which is great, but the same cannot be said for Syria. UNICEF, Islamic Relief and other organizations are raising money to assist those reeling from the disaster.
Locally, the Turkish American Cultural Association of Washington in Bellevue and the Salaam Cultural Museum in Seattle are leading efforts to aid groups on the ground.
Speaking about the unrest and grief many people in the community are feeling, Gokeri said there's no reason to question natural disasters like these, which are not human-made tragedies like war.
The Muslim Association of Puget Sound has been holding discussions for members, many who trace their roots to Syria or Turkey.
"All you can do in events like these is pray and be patient and tolerant," Gokeri said."
To learn more and donate, visit irusa.org."