Alexandria, Virginia, August 5 – Islamic Relief to Collaborate with the American Red Cross in Disaster Response to Wildfires in California
Islamic Relief USA has declared a state of emergency in response to the raging wildfires in Los Angeles, CA, that broke out in the Santa Clarita Valley on Friday, July 22 and has burned through more than 38,000 acres.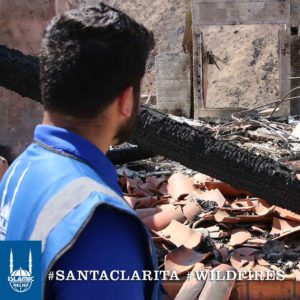 Islamic Relief USA is partnering with the American Red Cross and the Buddhist Compassion Relief Organization TZU CHI under the supervision of the Los Angeles Office of Emergency Management to provide financial assistance to victims affected by the fire in addition to supporting relief efforts on the ground. Cash assistance will be given at the Local Assistance Center to the residents of Santa Clarita starting August 5 until August 8.
"The Sand Fires spread very quickly into residential areas. Around 20,000 people had to be evacuated from their homes. Therefore, it is very important for organizations like us, focusing on mass care, to respond and support those who are affected in an effective and professional manner, as a large number of people will be in immediate need of assistance," said Hani Hamwi, Islamic Relief's Disaster Response Team Manager. "It is our duty to help our neighbors in need and we will do everything within our capacity to make sure aid is given to those most affected by the disaster," Hamwi added.
Islamic Relief USA has worked with the American Red Cross in numerous previous disaster relief efforts across the United States. In 2014, Islamic Relief USA signed a national Memorandum of Understanding (MOU) with the American Red Cross, the first formal partnership of its kind between the Red Cross and a Muslim response organization in the United States. Since its inception in 2011, IRUSA's Disaster Response Team has been deployed to two dozen major disaster situations in the United States and has trained and certified more than 2,500 disaster responders throughout the United States.
Media Contact: Mayssoun Olabi molabi@irusa.org or 703-370-7202
XXX
Islamic Relief USA, based in Alexandria, Va., is a nonprofit 501(c)(3) humanitarian organization. Its mission is to alleviate suffering, hunger, illiteracy and disease regardless of color, race, gender or creed, and to provide aid in a compassionate and dignified manner. Islamic Relief USA aims to provide rapid relief in the event of human and natural disasters and to establish sustainable local development projects, allowing communities to better help themselves. Its programs benefit millions of people each year around the world, including in the United States.
Islamic Relief USA meets all of the Standards for Charity Accountability of the BBB Wise Giving Alliance, a national charity monitoring group affiliated with the Better Business Bureau system. Islamic Relief USA is on the U.S. government's Combined Federal Campaign (CFC) charity list, and it is also a signatory to the code of conduct of the International Federation of Red Cross and Red Crescent Societies.