The following is an excerpt from an article posted in Modeldmedia.com in August 2019:
"Things are looking up in Detroit's Dexter-Linwood area these days. Neighbors and stakeholders have been working together to improve the area, rebuilding once-blighted homes, and planning a new commercial kitchen-restaurant.
All of this is thanks in no small part to the work of an organization called Dream of Detroit, which has roots in the area's Muslim community.
"We're trying to combine community organizing with housing and land development to revitalize this neighborhood here on the west side of Detroit," says Dream of Detroit Project Director Mark Crain.
Dream of Detroit has been fixing up homes, sponsoring entrepreneurship training, encouraging resident-friendly development, and hosting an annual street fair for several years, It's also been working with coalitions like Live Free Detroit and the Coalition to End Unconstitutional Tax Foreclosures to address issues like public safety and housing policy.
Waverly Street. Photo by Stephen Koss.
The nonprofit, which identifies itself with the slogan "A Detroit Revival Engaging American Muslims," services a 10-block area near and around the Muslim Center Mosque and Community Center on West Davison. Situated between South Glendale Avenue, the Davison Freeway, 14th Street, and the John C. Lodge Service Drive, the neighborhood has no formal name, though some residents call it Longfellow in reference to a local school that was demolished in 2016.
The Muslim Center, an inclusive religious center with a predominantly African-American congregation, has been a vital part of the neighborhood since its founding in 1985. The late Imam W. Deen Mohammed, son of Nation of Islam leader Elijah Muhammad, established the mosque. Following his father's death in the late 1970s, Muhammad disbanded the original Nation of Islam and reconstituted it into an orthodox Muslim movement that later became known as the American Society of Muslims.
Omar Peterson, a member of the Muslim Center's board and a retired construction worker, spent a lot of time in the area growing up. Although it was once home to a prosperous Black middle class, Peterson says the area has endured its share of struggles in more recent times.
"This was a tough area, especially during the '80s, when the crack epidemic came around," he says. "So the Muslim Center has been a beacon in the dark for this neighborhood."
Neighbors here persevered through the 1967 riots, a tornado that touched down in 1997, and the wave of foreclosures that swept the area during and after the Great Recession. While some residents, often those with longstanding family connections there, have stuck around and done their best to maintain the neighborhood, many have left for elsewhere. At one point, the area had as high as a 40 percent vacancy rate, according to Crain.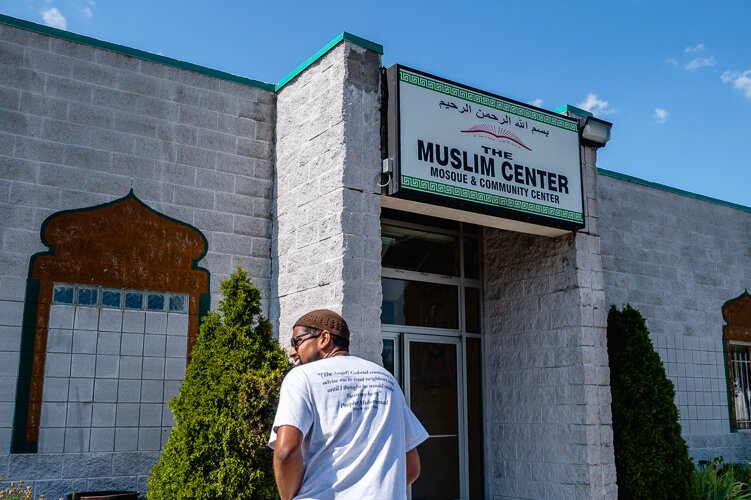 The Muslim Center. Photo by Stephen Koss.
In addition to issues like blight, vacancy, and an exodus of local businesses, the neighborhood has also had to contend with obscurity. The area was so off the map for local city planners in 2013 that it was designated as an ecological innovation zone by Detroit Future City when the nonprofit released its strategic framework for the Motor City.
"They had written this area completely off," says Teresa Clarington, President of the Longfellow Block Club. "They had done away with this area."
Launched last May, the Longfellow block club has sponsored neighborhood cleanups, held a job fair, hosted a talk with Mayor Mike Duggan and even established a volunteer citizen's patrol for the neighborhood.
Clarington is excited about what two new grants awarded to Dream of Detroit will mean for the area. One, a $25,000 grant from Islamic Relief USA will be used to build a playground at Glendale Avenue and 14th Street. Another, a Kresge Innovative Projects: Detroit grant for $35,000 will go toward drawing up plans for a commercial kitchen and walk-up restaurant on Woodrow Wilson Street.
Although Clarington is a Christian who attends the Greater Quinn AME Church on Rosa Parks north of the Davison Freeway, she and other members of the Longfellow Block Club enjoy a strong working relationship with the mosque and Dream of Detroit. And that spirit of collaboration has her feeling "really good" about the direction the neighborhood is headed.
"I know Mark personally. He takes great pride in leading Dream of Detroit," Clarington says.
Making the dream real
Dream of Detroit came together seven years ago due to the meeting of two groups — one from within the city and one from outside. Neighborly Needs, a charitable organization led by elders from the Muslim Center and another nearby congregation, Masjid Wali Muhammad, had begun to purchase vacant homes on Waverly Street to renovate them and provide homes for local families. Then the Indus Community Action Network (ICAN), a philanthropic group of Pakistani professionals from the Canton-Ann Arbor area, found out about their work.
ICAN's membership, particularly founder Dr. Waseem Ullah — whose father endured homelessness during the partition of Pakistan — became interested in seeing the rehab work succeed. So in 2012, the two groups joined forces, establishing Dream of Detroit as a nonprofit to help revitalize the community around the Muslim Center. Crain came on board just as the first house — eventually rented to and sold to a single Detroit mother named Nadirah Abdullah — was being completed. He found the project attractive both because of the transformative potential it held for a unique Detroit neighborhood and the intriguing cross-cultural coalition that was developing around it…"
Read the full post on Modeldmedia.com